Esdeveniments a Barcelona i entorns: detalls
Des 15 Agosto 2014 al 21 Agosto 2014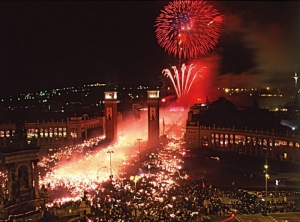 Festa Mayor de la Mercè 2014
On August 15th, Barcelona will again celebrate his greatest festivity, the Festa Mayor de la Mercè in honor of the Virgin of Mercy, patron saint of the city. The legend goes like this: on the night of September 24, 1218, the Virgin appeared simultaneously to king Jaime I, at San Pedro Nolasco and San Ramón di Peñafort, requesting that he be the founder of a new order of monks to save the Christians imprisoned by the Saracens.

Also, in 1687, the city was infested by grasshoppers and the populace invoked the help of the Virgin of Mercy. As the city survived the infestation, the City Council proclaimed the Virgin patron saint of Barcelona.

Not until 1868 did the Pope officially declare her a saint and, since then, Barcelona began hosting this annual festival. For an entire week, the city of Barcelona becomes a live show of all sorts of activities: a series of popular events that invite citizens of all ages to come out on the streets and join the party.

You may call it a Festival of Festivals, featuring the famous "correfoc" (fireworks), the human towers, the sardanas (a dance) and the "Piromusical", where fireworks and music blend together creating an incredible show, exhibitions of Mediterranean artists, the Barcelona Arts de Carrer (festival of theatre shows), music and dancing in the streets, and the BAM, the independent music festival of Barcelona.




Nozio © 2014
Tornar